EMRA - History
The EMRA has been in existence since 1946, initially in a founder's basement, then the CPR Strathcona station (now the Iron Horse Night Club), the Strathcona Library, the Edmonton Gardens, the Lions' Centre, and now in the Freight Shed at Fort Edmonton Park.

The EMRA was founded in 1946 but the history of the club fades before the time it was located at the Edmonton Gardens. It has now been brought to our attention that the founder of the EMRA was Norman Mould. His wife, Edith, has provided some stories and pictures of the club's founding.

Edmonton Gardens 1962-1980
Several layouts were built (both HO and O scale) were built in the Edmonton Gardens.

Lion's Senior Citizens' Centre 1980-1991
The club met in a basement room, where we built a "portable" layout, and dreamed of our own building. We carried the layout to shopping malls, where we raffled 3 Macintosh computers to raise money for our building project. Ian Jenkins prepared the story of "Searching for a New Home".

Fort Edmonton Park 1992-present
Members near completion of the Freight Shed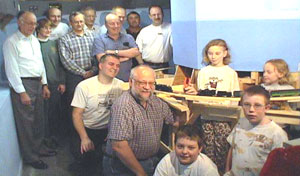 Driving the golden spike on the Fort Edmonton layout - January 16, 2000.
Take a virtual tour to see more of the current layout.
The Hailstorm of July 11, 2004
The club building in Fort Edmonton Park was hit with many inches of hail and torrential rains - pictures by Ken King.
We would like to acquire, preserve, and annotate photographs or stories of members, layouts, and activities in all these locations.
If you have photos or other memories you could share, please contact Mark Johnson at Mark.Johnson@InfoHarvest.ca.
---
EMRA Home Page
Most recent update: 2005 June 11 by Mark.Johnson@InfoHarvest.ca